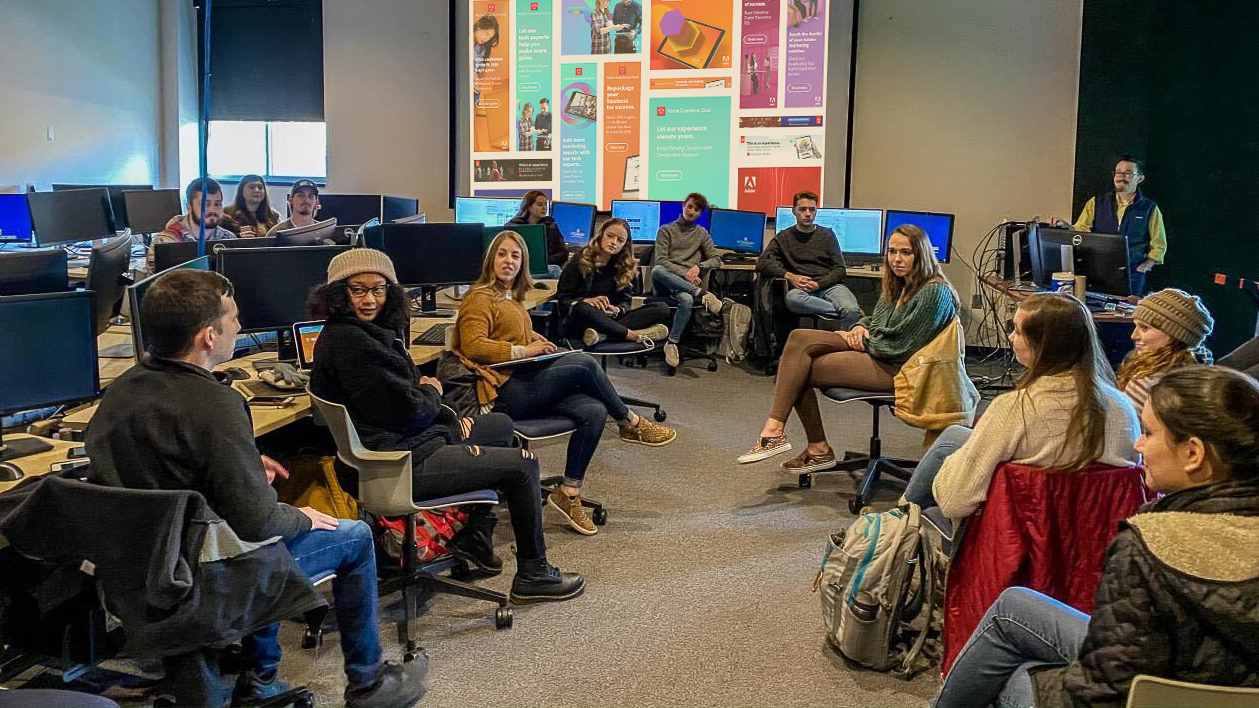 ETSU's National Student Advertising team placed in the top nine of the National Student Advertising Competition semi-finals after winning first place in the district 7 competition. This is the second time in three years that ETSU students have competed at the finals.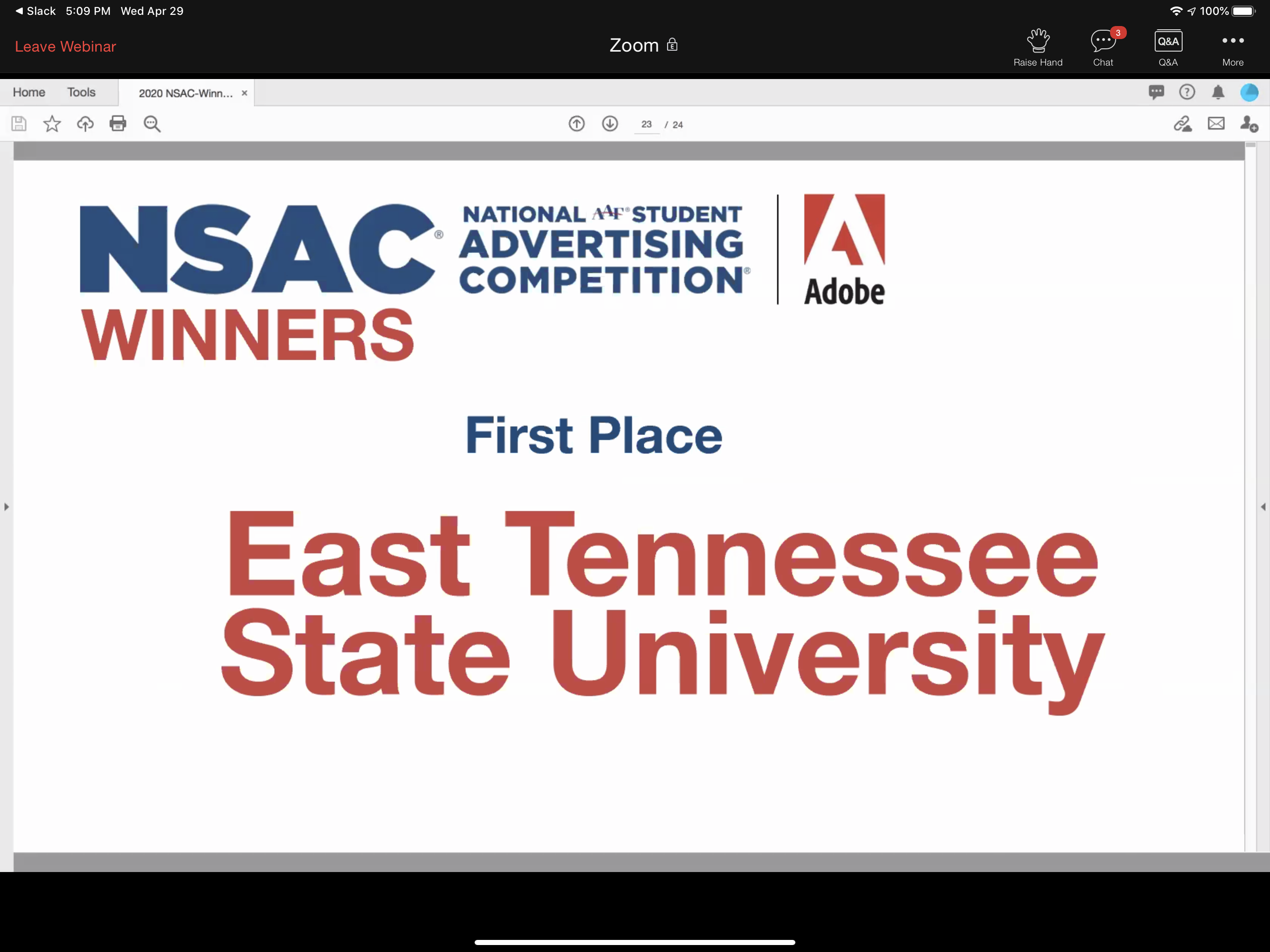 Students on the NSAC team represent the ETSU Departments of Media and Communication, Art and Design and Digital Media. This semester, they collaborated to create an advertising solution for the 2020 competition client, Adobe. At the district level, the team competed against eight other universities, including second place winner the University of Alabama and third place winner Lee University. At semi-finals, they competed against 17 universities for a top nine spot to advance to nationals.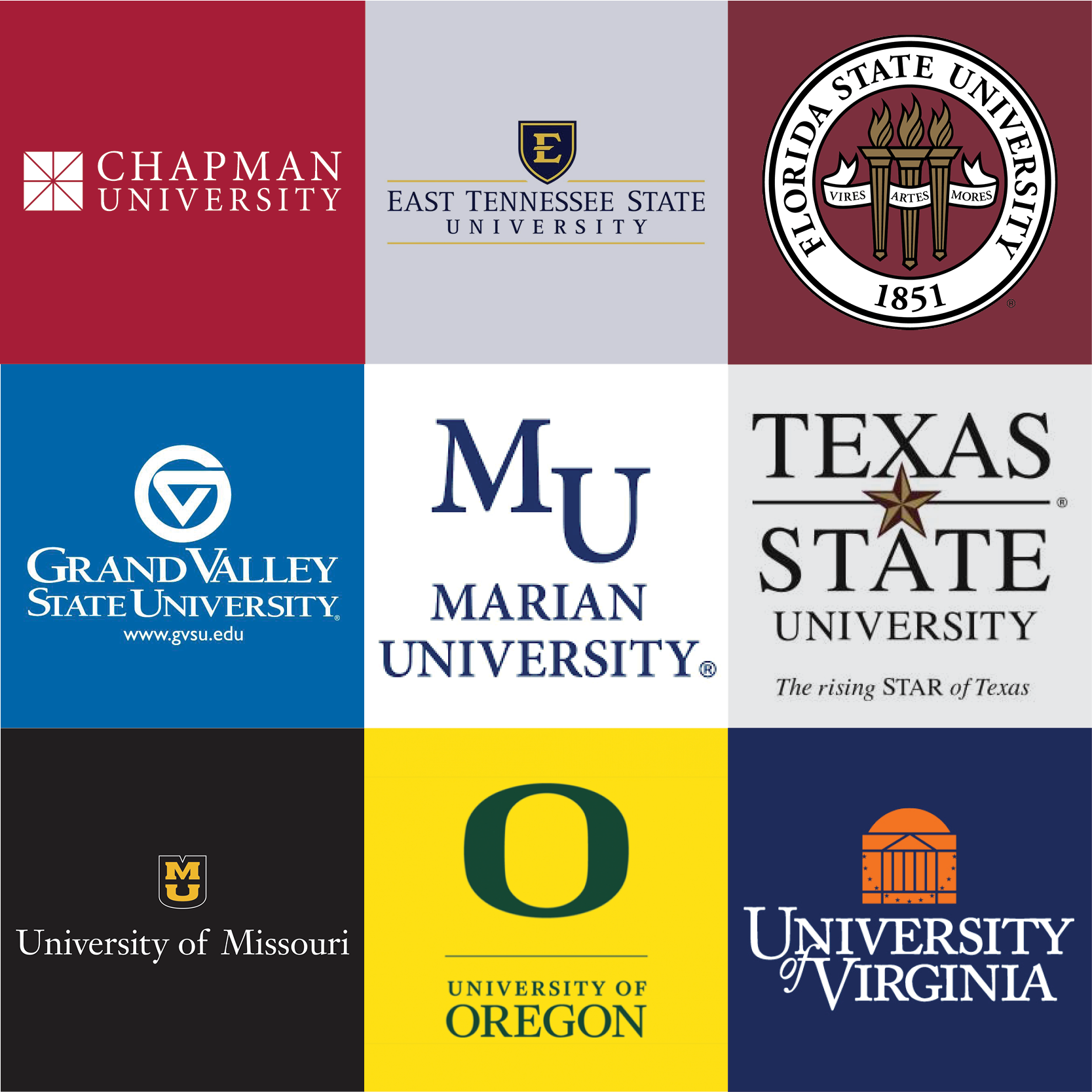 Top nine finalists representing less than 10% of all the schools competing in NSAC.
"I'm so ecstatic for our team to be moving on to the NSAC finals," Bailey DeVore, senior media and communication student and the team's lead copywriter, said. "Our heart, determination and strength keeps on showing as we progress through this competition. We really poured all that we had into this campaign, and that continues to shine. I'm honored to be competing on this team of amazingly talented people at the national level."
NSAC is a collegiate advertising competition that takes place each year and is held by the American Advertising Federation. The district competition was originally supposed to be held in Montgomery, Alabama. However, due to the current pandemic, the competition was held virtually this year.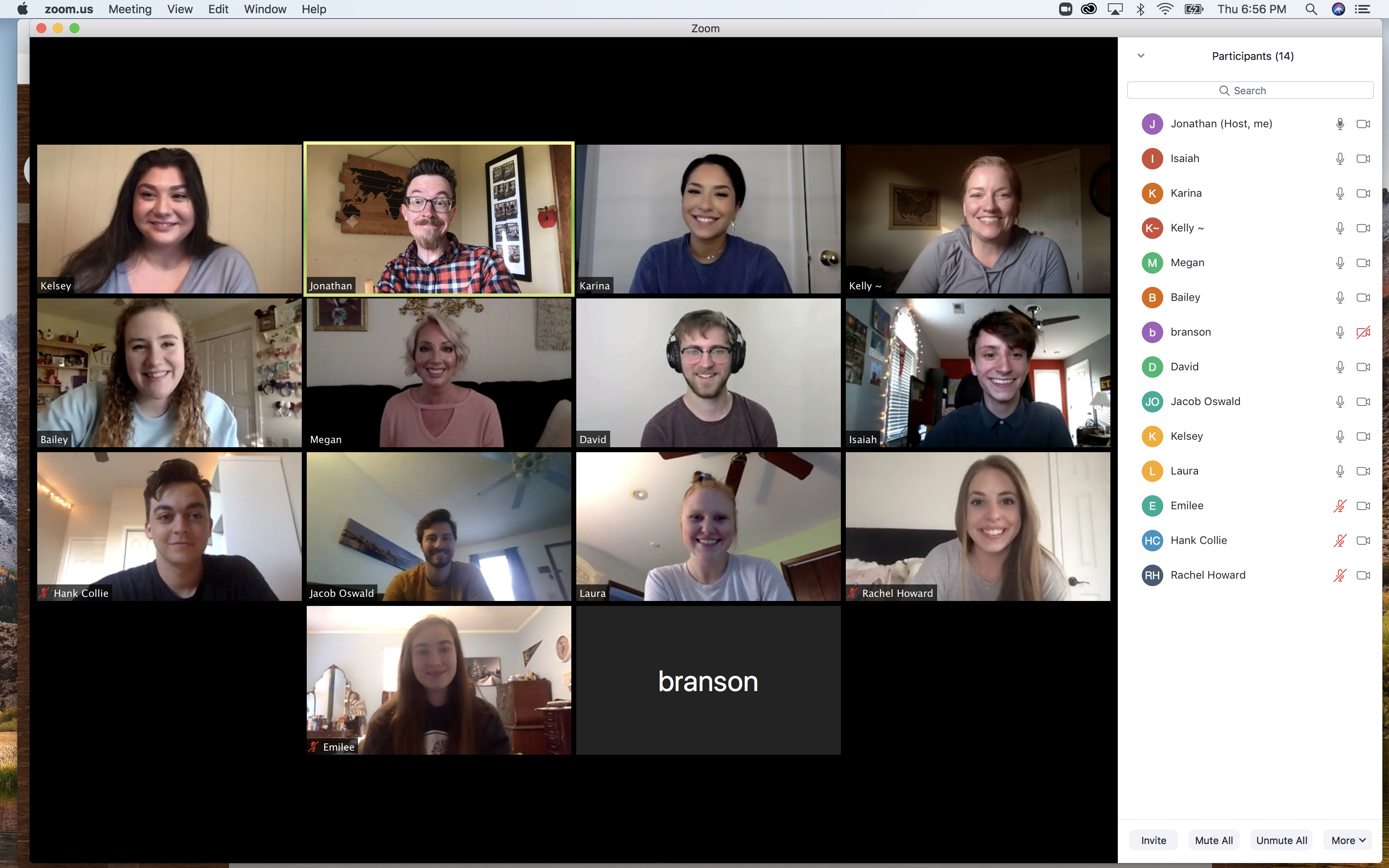 A few members of the team on Zoom with advisors Jonathan Hounshell (Professor, Digital Media), Kelly Porter (Associate Professor, Graphic Design) and Megan Fannon (Lecturer, Media and Communications).
"First, take all of the COVID-19 challenges for a collaborative class, spanning three departments and two colleges," said Jonathan Hounshell, a faculty advisor and digital media professor. "Add in some really big name drops for the schools competing in our district. Then top it all off with one of the most challenging case studies that I've seen in eight seasons. You can't tackle such challenges without all hands on deck. Our students really delivered."
DeVore, Kelsey Bailey, Karina Jurayeva and Isaiah Harwood presented during the virtual competition this year. The ETSU team had 27 students contributing to the advertising strategy and creative execution.
"NSAC puts everything on the line – research, strategy, media and creative – against some of the best schools in the country," said Megan Fannon, a faculty advisor to the team and lecturer in media and communication. "Our students continue to push their limits and dig deep to develop campaigns of professional caliber. The collaborative approach across departments set us apart. The win is hard fought, and we're excited to move forward."
"We are unbelievably happy to win first place in the district," said Jurayeva, a graphic design student in the Department of Art and Design and an art director on the team. "I am very proud of the results and look forward to competing at the national level."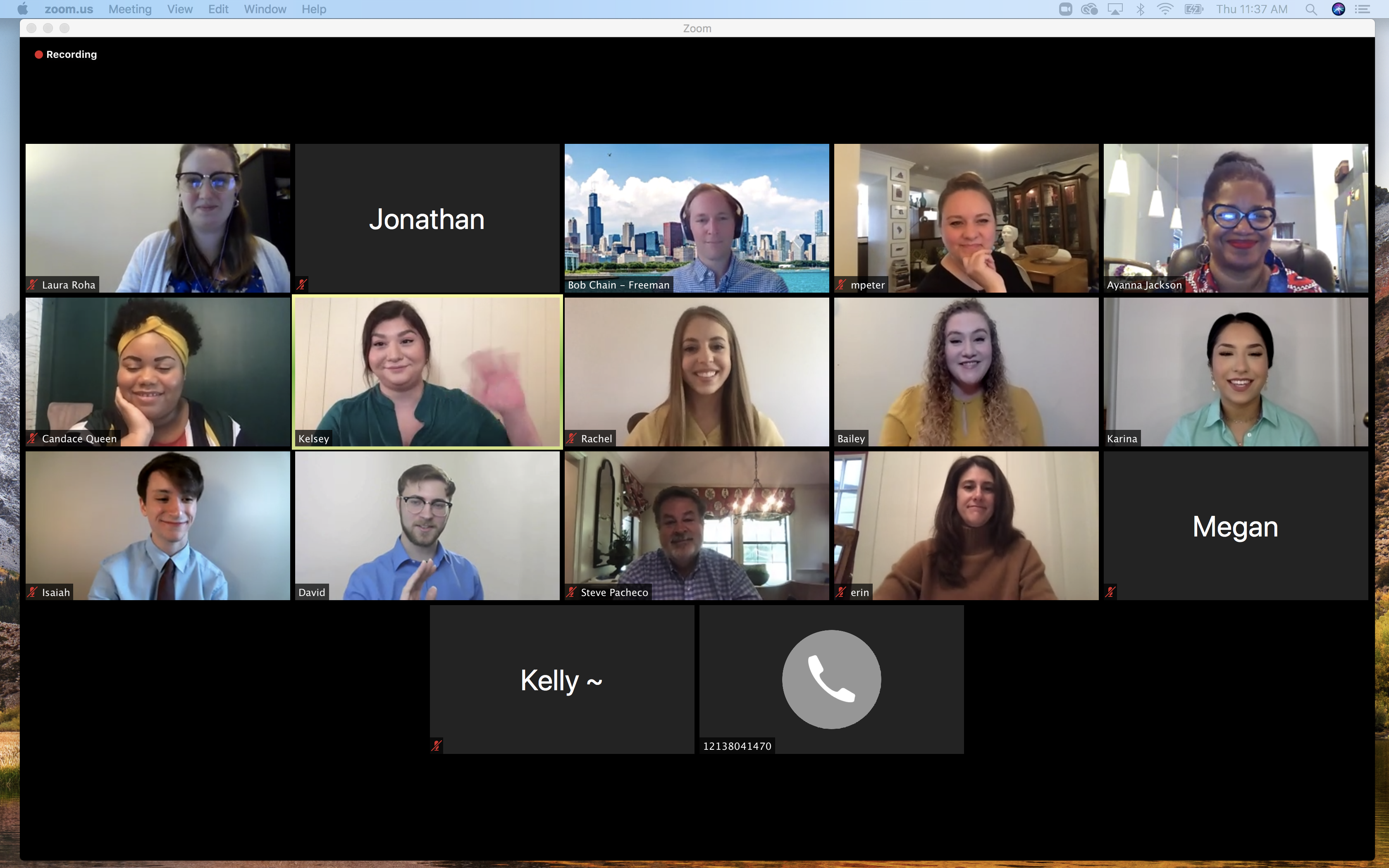 Presentation team participating in live Q&A with Semi-Finals Judges: Bob Chain, Assistant Director, Business Development at Freeman Company; Maralise Petersen, Global Portfolio Integrated and Competitive Marketing, Principal at Adobe; Candace D. Queen, Principal + Creative Director at Tabernacle, Inc.; Erin Zuccaro, Director of Advertising and Media Strategy at Adobe.
The team began working on the campaign in January and submitted their pitch presentation video to a different panel of judges at each level. The competition requires teams to create a presentation and a plan book, which students work on during a designated NSAC class and outside of class.
"From working late nights on campus to late nights over Zoom, I am incredibly proud of everything this team has accomplished despite the circumstances," said Harwood, a student in the Digital Media Department and the team's creative director. "Not even a pandemic can stop these Bucs!"
Due to NSAC rules, elements of the teams' advertising strategies cannot be disclosed.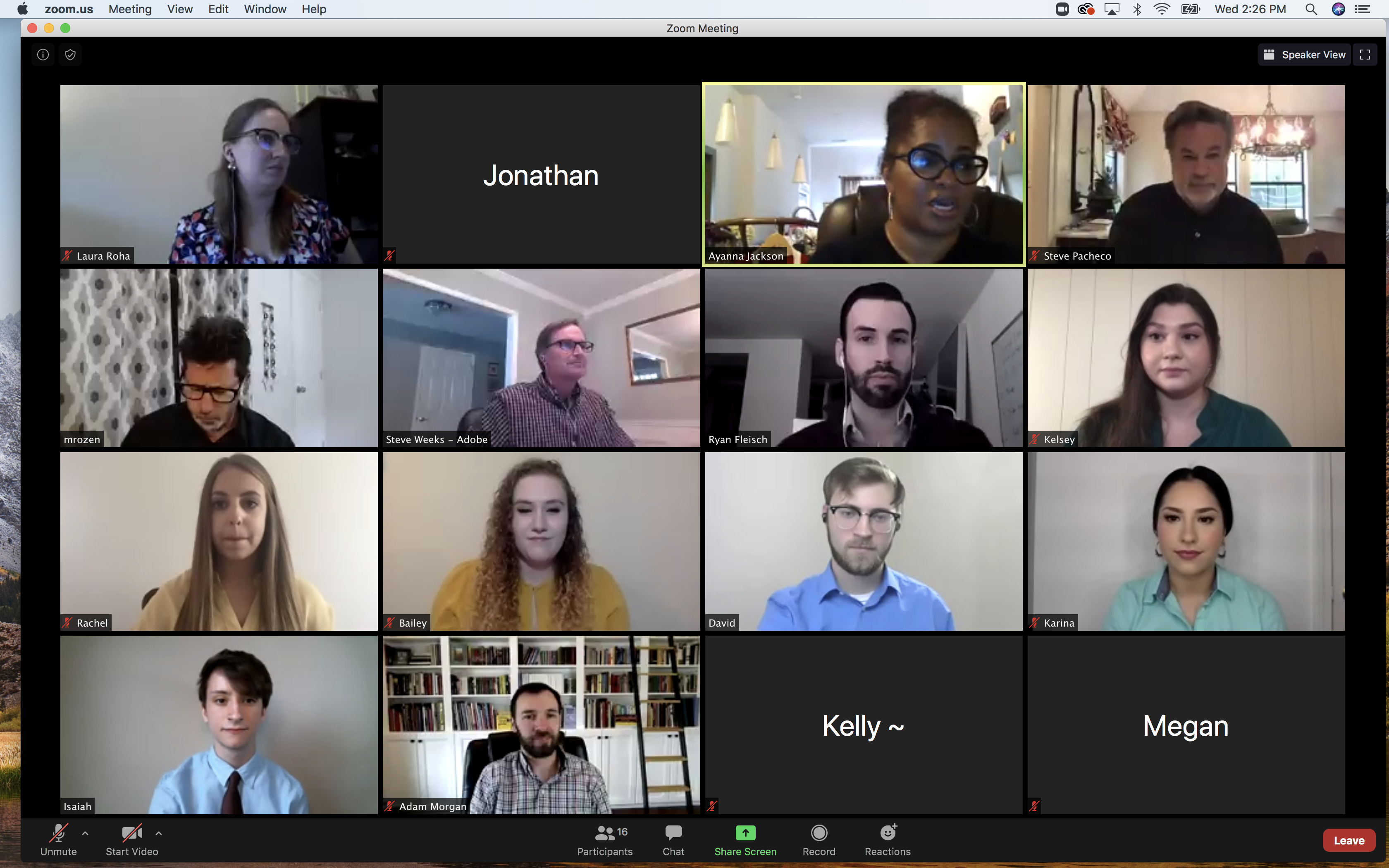 Presentation team participates in live Q&A with National Judges: Ryan Fleisch, Head of Product Marketing, Adobe Advertising Cloud; Adam Morgan, Executive Creative Director for Adobe; Matt Rozen, Director of Enterprise Publishing at Adobe; Steve Weeks, Director of Performance Marketing at Adobe.
Story contributions by Raina Wisemen (editor for the East Tennessean)
and Jonathan Hounshell (Professor, ETSU Digital Media)